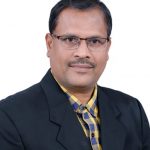 Dr. T. Balasubramanian, M.Sc., M.Phil., Ph.D.
Principal
I take due privilege in welcoming all the future makers of the world. I render a red carpet welcome to all the UG & PG students & research scholars to this temple of SVM. Our College stands unique and maintains a lofty academic achievement in Periyar University. Sri Vidya Mandir Arts & Science College is an exemplary not only in academic, but also in discipline and other Co-Curricular activities. Our College is Accredited by NAAC with 'A' grade (3.27) CGPA and also college is proceeding towards potential for excellence and to get autonomous status. As a principal it is my bounded duty to thank my management and also my dear student.
The college is situated in a well condusive climate near the historical place Hanumantheertham. The college stands majestic with multi-storeyed building with well stocked library, well facilitated labs, spacious playground, clean and hygienic canteen and well has connected transport facility.
The faculty of the college is par excellence, well qualified and highly dedicative also shows their umbilical love & care towards the young student community. The faculty always dreams about the achievement of the student. To fulfill the hard work rendered by the students, they also show their fullest co-operation and come out with flying colours in the Periyar University exams. At this juncture am fully happy being the principal of the college and also keep vigilant about the welfare of the college to make it No.1 college in Tamilnadu.
I bless my students to go ahead and achieve goodness in all endeavors.